A Wedding Veil Style Guide - From Classic to Modern
Your wedding is, perhaps, one of the most important days of your entire life. There are so many great options that one has to choose from when selecting the location of their wedding, the theme and the attire-that the list seemingly never ends. No matter what type of wedding theme you choose to go with, choosing the appropriate wedding veil can often be a hard choice for many. This guide to some classic and modern wedding veils can assist you in your decision making process for your special day in the sun.
2-Tier Fingertip Length Veil with Embroidered Edge
If you are looking for the uber classic theme with your wedding veil, look no further than this wedding veil. The first tier is a decadent 26 inches, and the second tier is 30 inches, while the main veil is 72 inches in width. The added glamour of white pearls embedded around the top offer an extra touch of flare.
Short Two Tier Veil with Pearls and Rhinestones
If the pearl and rhinestones that are embroidered within this veil don't immediately catch your eyes, then the glamorous dual tiers of it most certainly will. Measuring at 19 inches, for the first tier, and at 22 inches for the second one, this veil easily screams classiness. The charming and graceful 72 inch wide veil is certain to make you look every bit the bride-to-be!
Fingertip Length Veil with Scattered Crystal Edge
The dazzling crystals that are scattered about this decadent two-tiered, shorter wedding veil are certain to impress. It will easily compliment all body types with its 72 inch width. And the two tiers measure at 30 inches and 35 inches respectively-to add that finishing touch to your bridal gown.
Embellished Cathedral Veil
The classic church wedding is never out of style, and never will be. It also calls for quite an elegant look. Look no further than this stunning Embellished Cathedral Veil if this is to be theme of your ceremony. This gorgeous veil is 120 inches long and 72 inches wide, and is beaded with motifs that will make you shine on your wedding day!
Waist Length Veil with Scalloped Beaded Edge
Who says you can't go modern but still have an aura of neoclassic fashion in your wedding veil? That is exactly what you will find with this Waist Length Veil with Scalloped Beaded Edge, which features a very desirable bugle bead embellished edge. The swirl of the veil adds that finishing flare to any chic and modern trim line wedding gown, and is most certain to dazzle!
Rhinestone & Pearl Embellished Chapel Length Veil
There are some wedding veils that are great for all types of bridal party themes. In this instance, the Rhinestone & Pearl Embellished Chapel Length Veil is very suiting. If the rhinestones and pearls don't catch your eyes right off the bat, than the 90 inch length and 72 inch width will allow you to add this wedding veil to any gown, be it modern or classic.
Flower Comb with Detachable Facial Blusher
For a modern look with an added enigmatic floral touch, look for none other than this Flower Comb with Detachable Facial Blusher. The gorgeous flower centerpiece will certainly wow your guests, and the added facial blusher is most certainly a must-have! This wedding veil is ideal for any wedding theme, be it formal or relaxed.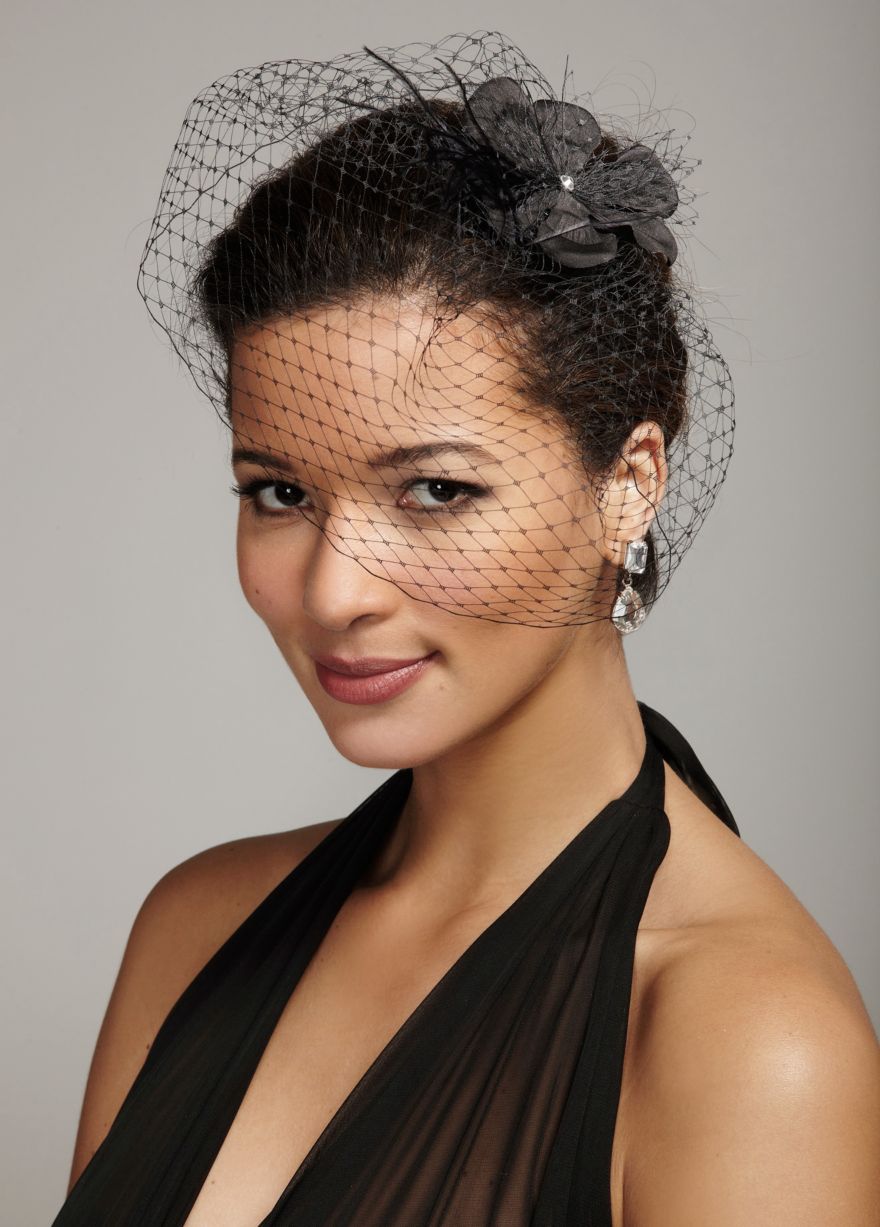 Black Russian Tulle Blusher
The ever so timeless tradition of the 'white wedding' most certainly rings true when most people thing about marriage ceremonies. However, black is back, and is very in, too! If you are looking to really change things up with your wedding gown, this Black Russian Tulle Blusher is certain to meet your needs. The flower with crystal center adds even more charm to already graceful, elegant and modern wedding veil!
Two Tier Elbow Length Veil with Scattered Pearls
Whether your wedding is indoors or outdoors, relaxed and informal, or cathedral and very formal, this Two Tier Elbow Length Veil with Scattered Pearls is a grand choice for really making you look every bit the serene princess bride-to-be on your wedding day! The gorgeous and glistening pearls that are delicately placed around the top, and the two tiered magnificence of this veil easily make it a great choice for a modern or a formal wedding occasion! The raw edge and the interfolding veils-that measure 26 inches and 30 inches-are certain to truly make you the center of attention when you are walking up to that altar!
Although many modern brides choose to forgo the veil entirely, a well selected choice can be the perfect finishing touch for your bridal gown. Consider these fabulous options before making your final choice.
Article Source: By Lorrie Whitting